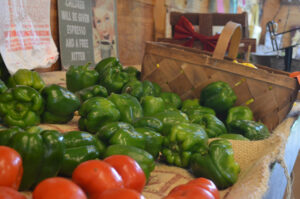 Thornbury's fresh vegetables and herbs are grown using natural practices without the use of harmful substances such as pesticides and herbicides. No chemical sprays, synthetic fertilizers, or genetically engineered seed are used.
Local Breads and Baked Goods
Whole grain and white sandwich breads plus Golden Wheat with a honey brown interior with a robust whole wheat flavor. Enjoy a multigrain that is a flavorful, hearty whole wheat topped with bulgur, rye, sesame, and sunflower seeds or a traditional hand finished French bread. There are sourdoughs, boules and brioche. For your sweet tooth: super-sized cookies in Chocolate Chunk, Oatmeal Raisin, Peanut Butter plus brownies and crumb cakes.
Swarmbustin Honey
Swarmbustin' Honey offers pure honey in a diversity of flavors and styles: Fall Wildflower, Buckwheat, Golden Nectar, Black and Gold, Totally Raw Honey, Blueberry Honey, Raspberry Honey. Garlic Honey, Hot Garlic Honey and Comb Honey. Enjoy a special treat of flavored Honey Sticks.
Golden Valley Coffee
Golden Valley Coffee is USDA Organic certified and artisan roasted in small batches. Golden Valley is a local company providing Columbian, Costa Rican, Guatemalan, Kona, and other specialty coffees.